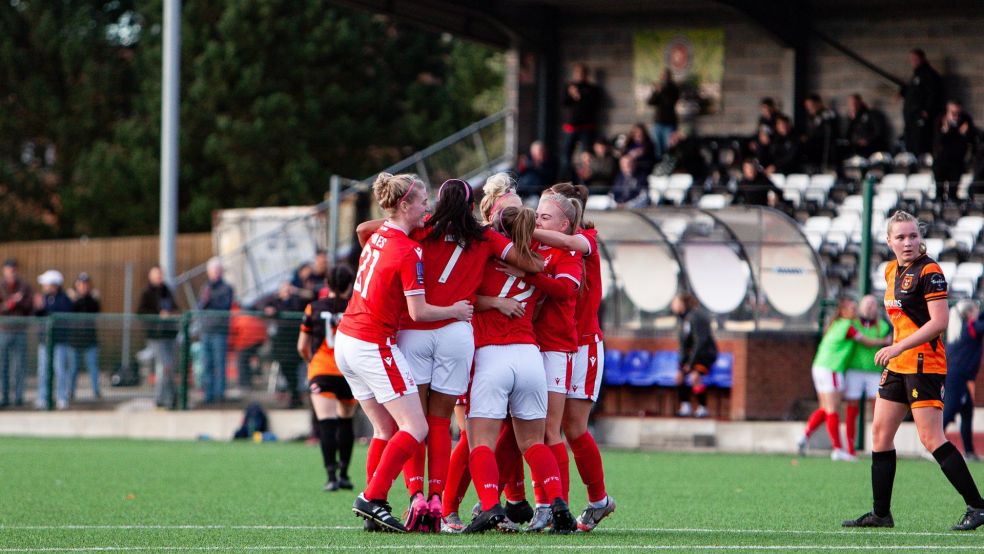 Late drama see Forest steal share of the points against Hull City
Nottingham Forest 2 Hull City 2
FA Women's National League North
There will always be times in a season where you can pinpoint the course two teams are on. Nottingham Forest and Hull City proved they can both aim higher as the season progresses. 
Both sides gave the lucky fans who were allowed in something to ponder. When looked in isolation, the possession and number of chances Forest had to win the game in the first half alone would suggest they would have been unlucky not to have walked away with all three points.
Forest had done all the hard work in the first half. They were first to the ball, found ways around the back of the Hull defence and rarely looked like conceding.
Georgia Hewitt had the best of two opportunities for the league's leading scorers, Hewitt finding herself just with keeper Abi Wallace to beat only to see the ball roll agonisingly wide. It set a pattern for the home side.
Hull kept their composure during the onslaught. Diminutive winger Emily Smith came closest to scoring for the Tigers in the first half, rattling the bar with a cracking effort. It should have been enough of warning to Forest not to allow her the room to try it again.
But Smith did just that in the opening minutes of the second half, Hull breaking forward after a Forest free-kick came to nothing. Smith again struck the upright but was able to follow up and give Hull an early second-half lead.
Six minutes later they had doubled their advantage. Rebecca Beech appeared to be going nowhere when she shot at goal but her looping shot fell despairingly out of the reach of Aja Aguirre. It was the sort of moment that should have sealed the points for Hull.
Forest started to see more of the ball but as time ticked away Hull stood firm and frustrated Forest at every turn. As injury time approached, Forest was still looking for a way into the game.
Annabel McKechnie gave the home side a glimmer of hope when she bagged her first goal of the season. Hull needed to dig in having been reduced to 10 players when Suey Smith was carried from the pitch with all substitutions used up.
The game had entered the 95th minute when Forest were awarded a penalty. Rosie Axten stepped up and confidently put the ball firmly in the back of the net. It was no less than the home side deserved.
While it looked hard on the Hull side, they will have come out of this game with a lot of positives and showed they have the quality to avoid being sucked into a relegation battle.
Forest:  Aja Aguirre, Charlotte Greengrass, Lyndsey Harkin, Charlotte Steggles (Niamh Reynolds 87'), Hayley James, Georgia Hewitt, Sydnie Naylor, Mai Moncaster (Katie Middleton 58'), Sophie Tudor (Annabel McKechnie 58'), Bex Rayner, Rosie Axten 
Subs not used: Grace Walters, Laura Dexter 
Hull: Abi Wallace, Eden Pederson, Ellice Jackman, Jo Symington (Faith Martin 32'), Florence Pegrum, Suey Smith, Ellie Tanser, Liberty Bott, Emily Smith, Katie Thompson (Aaliyah Allen 82'), Rebecca Beech (Rachael Ackroyd 66') 
Sub not used: Bethan Padget