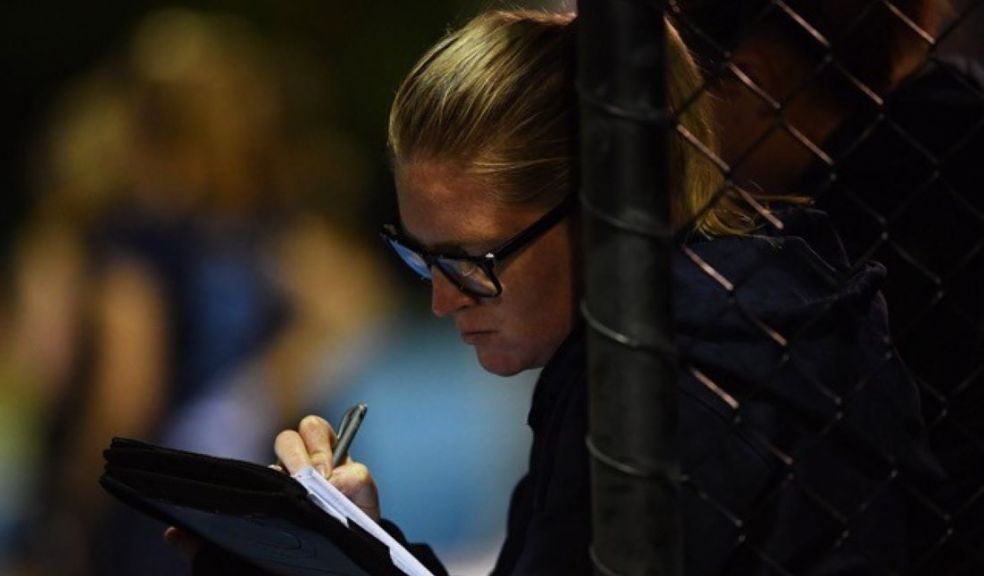 Mark Hager: Glynn jetting in is win-win for England Hockey
There may well be a distinctly Southern Hemisphere vibe to training around Bisham Abbey when Great Britain and England women's head coach Mark Hager is joined by fellow Kiwi Katie Glynn.
Glynn has been appointed assistant coach to the women's national team as they prepare for a return to FIH Pro League action, as well as an assault on the EuroHockey Championships (as England) and the Olympic Games next year.
The New Zealander has impeccable playing credentials and was renowned as a fearsome and uncompromising player. Hockey fans across the world will remember her heroics for the Black Sticks at the 2012 Olympics as she took to the field in the semi-finals against Great Britain with her head bandaged up after she suffered a blow during the game. Now, Great Britain and England will be looking for her to bring the same fire and determination in her new role as assistant coach.
Mark Hager, who has been in situ as head coach since January 2019, was Glynn's coach during her 134-cap career with the New Zealand Blacksticks, although the former New Zealand coach has yet to work with Glynn in a coaching capacity.
"I've watched her coach from afar, really," Hager told Women's Sport Daily. "She has done some age-group stuff in New Zealand, as well as some work wth the senior team forwards. What we saw from that, and from the interviews, was her attacking knowledge and experience. What we have seen with the New Zealand [senior] side is that their conversion rate has gone higher – Olivia Merry has become the leading goal scorer in the Pro League over the past two seasons – and Katie has been working with her one-on-one.
"She will also bring different ideas to the group. Her role will be very much on the attacking side, particularly the attacking circle, individual skills, penalty corners, free hits outside the circle. Pretty much anything in the attacking third will be Katie's role."
Glynn's ability as a forward is well-known. She was her nation's leading goal scorer with 77 international goals to her name. And she has plenty of knowledge on the highest levels of the world stage. During her international career, she played in the 2012 Olympic Games, plus the 2010 and 2014 World Cups and two Commonwealth Games. She retired from playing after sustaining a serious injury when she was just 26 and has thrown herself into coaching ever since. Her coaching CV to date includes stints with New Zealand U18 and U21 sides before joining Graham Shaw as assistant coach to the New Zealand senior side.
For Hager, the fact Glynn is not long retired from international hockey is another bonus. "Katie still has that closeness to the game and also is nearer in age to the players. We though that was another thing she would bring to the role – that sort of ability to build strong relationships with the players in the team.
"Katie knows the way I think, hockey-wise, but she will also bring her own perspective. She knows I like to play attacking hockey and the sort of style I play, so we don't need to spend a lot of time on that. We will probably just do some work around the wording of it. For example, when I was with New Zealand we used Maori language around some of the calls. So Katie will need to get used to the calls we make, but the concepts remain the same, it is just around the terminology."
People may be surprised to learn Great Britain captain Hollie Pearne-Webb was also involved in the recruitment process. It is a development that Hager has not seen before but, he says, "Hollie joined us for parts of the process, asking questions from the perspective of the team. She wasn't in the decision process but she did give us feedback on her thoughts. It is really good to have an athlete's viewpoint around what they see and feel. It is important that the players know we are valuing their opinions."
Glynn's arrival is not imminent. There will be a two-to-three month visa application process but the delay is not something that fazes Hager. He explained how hockey's return in England as the nation adjusts to Covid-19 means the national squad can only resume full training in stages.
"We are in an eight week block at the moment but then we are giving the athletes a two-week break. After that we are hoping that we can get back to training ahead of the Pro League season. We are hoping that Katie will be here for that."
Once she touches down, Glynn will be in the thick of things. The Pro League fixtures later in the year will be followed by a tour to a warm-weather climate in January. That will be followed by more Pro League fixtures and then preparations for the EuroHockey Championships. Then, in July and August, the team will be looking to defend their Olympic title in Tokyo.
For Hager, the enforced break has been a double-edged sword. On the one hand, it has given him time to get his squad functioning as a unit and ironing out the issues that a developing squad will always suffer. On the other, the most recent performances suggested the team were gaining momentum and gaining ground on the teams ranked above them.
 "We were ready for the challenge of Australia and New Zealand [in the Pro League], so losing that momentum wasn't great. But, it was the same for every team. For us, the biggest issue is still defence – we have to tighten up on our defence.
"Also, last year there was a lot of disarray. I tried people in different positions and with different playing styles but now I think we have structures and playing styles sorted out. Now we are settled on our structure and principles, so we will continue to build on those."
And Hager, who moved to England just 18 months ago, has these words of encouragement for his new assistant coach. "England Hockey are a really good group to work with and they will open their arms to welcome her, but one of the things we want Katie to bring is her confidence and her energy to the group. She will be a great asset to this group, particularly in the attacking areas."
Quoted on the England Hockey website, Glynn said: "I am extremely excited to be appointed. The role is an amazing opportunity for me to work with world class athletes and staff that have been successful on the world stage. I have enjoyed coaching against the squad and have always admired the way they play the game. It is a great privilege to join the group and I am really looking forward to adding what I can to continue to progress the squad."