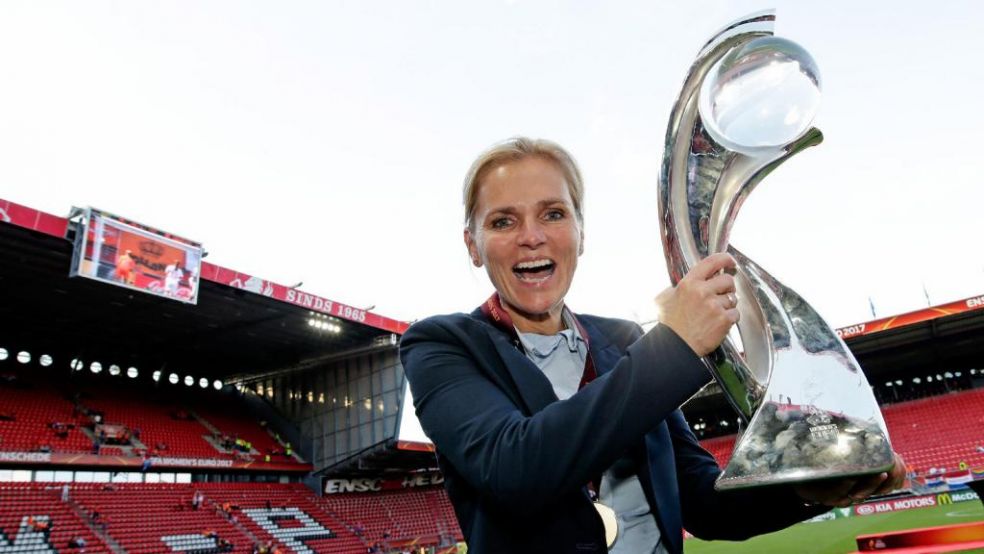 Dutch delight - why Wiegman's the right choice for England
The Football Association may have received 142 applications for the England job but, in reality, the choice came down to a straight shootout between two women - the coach who won the last World Cup or the opponent she beat in the final. 
The fact The FA opted for the latter may seem counter-intuitive. Sarina Wiegman, though, is the right woman at the right time to lead the Lionesses.
Jill Ellis, former head coach of the USA national team which lifted the World Cup in France last year and in Canada in 2015, was the candidate to miss out. On paper, her record looks impeccable - those back-to-back World Cup victories rightly standing out on her resumé.
So what counted against her? Despite her success with the national team, Ellis was far from popular with all of her players. There were suggestions from within the camp the World Cup was won despite the head coach, not because of her. There was also a high-profile falling out with superstar captain Megan Rapinoe, who took the knee during the national anthem at matches in direct conflict with the wishes of her boss.
Of course, a head coach having disagreements with players shouldn't be an obstruction to getting other jobs but it will have raised eyebrows at The FA - who, after all, have been bitten before by similar rows.
Ellis' medals also come with a hefty price tag. There were reports her salary expectations would have been in the region of £800,000 a year, well over double what incumbent Phil Neville is understood to be on. 
In this current Covid age that kind of cost has to come into consideration. It has also worked out well from a timing point of view, with Wiegman only able to start at the end of her committment to the Dutch FA to lead the side at the 2021 Olympics - by which time Neville's own contract will have expired, so no expensive pay-outs. 
However, to see the appointment as one of pure expedience would be doing both Wiegman and The FA a considerable disservice. She is an outstanding coach, having led the Netherlands to the 2017 Euros title before the run to the World Cup final. 
There will inevitably be some disappointed home-grown candidates. Emma Hayes, fresh from leading Chelsea to the league and Conti Cup double, would be left wondering what more she needs to do. 
But I imagine most coaches in the Women's Super League will welcome Wiegman and the opportunity for their players to work with her. She could prove to be the last piece in the puzzle to take England from contenders to world beaters.