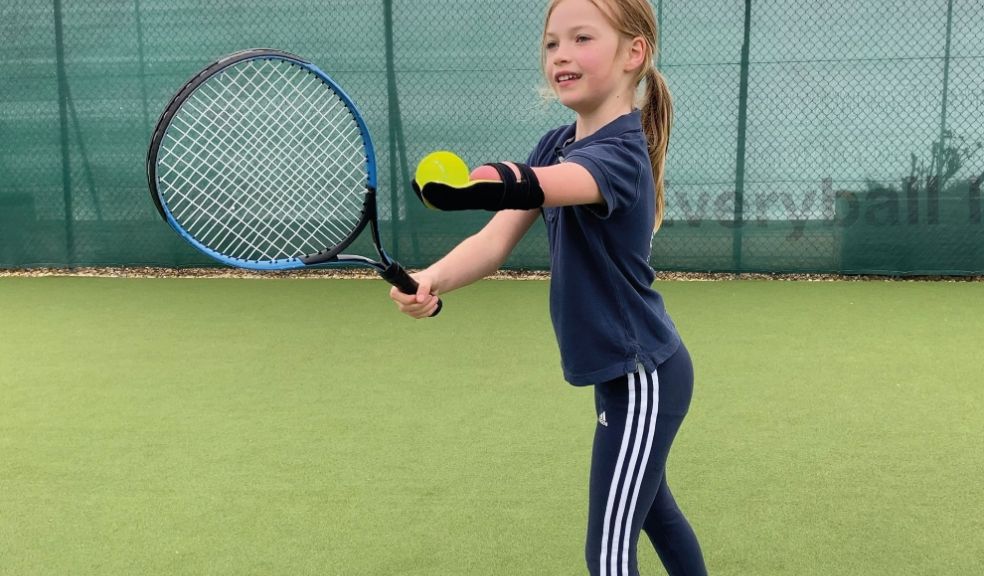 New tennis prosthetic changes the game for 9-year-old Joanie
Nine-year-old Joanie Melady, from South Oxfordshire, was one of the first people in the UK to receive a new type of prosthetic arm, thanks to an innovative project. Now her love for tennis is set to help children and adults just like her across the world to ace it on the courts.
Joanie, who lives with her mum, dad and sister, was born with a congenital limb difference meaning that her left arm did not fully develop before birth. While it's never held her back, including on the tennis court, throwing up the ball to serve with her right arm then quickly having to grab her racket meant serving wasn't easy.
Hearing about Joanie's love for tennis and her frustration when serving the ball, the team at UK-startup Koalaa set about engineering a solution. After working closely with Joanie, Koalaa's designers came up with a new tool that could be worn on the end of her limb and used for tossing the ball.
Having inspired its creation and helped with its development, the tool has since been named 'Joanie' in her honour. After months of development and a successful trial, the new Joanie tool is now available for tennis fans of all ages around the world.
Alan Melady, Joanie's dad, commented: "Joanie is a huge tennis fan. She began playing in the garden around age five and started lessons when she was six. Now she plays twice a week at a local club. Throwing the ball into the air to serve was an issue though and while she could do it, it was difficult and very frustrating for her. Her Koalaa prosthetic and the new Joanie tool have made such a difference and to be part of the development process has been incredible. We can't thank the Koalaa team enough."
Joanie said: "I was really happy when Koalaa told me they were going to make a tool to help me throw the ball and that it was going to be called after me. I love playing tennis. My favourite player is Emma Raducanu and I hope I can play like her one day."
Joanie received her Koalaa soft prosthetic through an initiative called Project Limitless. The result of a collaboration between charity Douglas Bader Foundation and quadruple amputee and adventurer Alex Lewis, the project aims to provide every child in the UK who needs one with a free prosthetic arm. Over 500 children have been supported by the project to date.
Nate Macabuag, founder of Koalaa, explains: "Joanie is an absolute superstar, and I can't put into words how proud we are seeing her on the tennis court and hearing how much the new tool has helped her. Naming our prosthetics and tools after the people who inspired them is something we always love to do, as all of Koalaa's designs are driven by our users and their ideas and feedback."
For more information visit www.yourkoalaa.com